Consultation? What nonsense
AS a resident in Westfield Park 1 was shocked and dismayed at the letter by Councillor Judith Woodman (Viewpoints, November 14) stating that local people's views were sought on plans to build housing in North Ely.
What superfluous nonsense; as far as Westfield Park is concerned we do not even come into the frame.
As for related comments made by Councillor Delme Bowen in his repetitious newsletters, stating that the development will address anti-social problems, I do not see how increasing the population in the area will achieve this.
My other grievance is with the plans available for residents to view - on display at times when most people were working and unable to see them.
I understand from those fortunate enough to view them that the plans
have altered from what was originally started with multi-storey flats now being included as well as many hundreds of houses.
Other sites that began with a limited number of houses have grown into concrete jungles.
Coun Bowen lives in a very private location backing on to plenty of greenery; perhaps he would like some affordable housing built around him as he obviously feels it benefits an area. As for Coun Woodman, if she stands for social justice, where does she find any justice in taking away green recreational land that families, children and adults freely enjoy on a daily basis and replacing it with a large
housing estate.
S Tarbet
Marguerites Way, Westfield Park,
St Fagans,
Cardiff
Importance of places to play
I WAS most impressed to see the recent article in the Echo (January 10) regarding redevelopment in Victoria Park, Canton, Cardiff, for the young people of the area.
It also brought to mind the article back in May, 2006, where the local Labour councillors worked hard to
ensure provision of a five-a-side pitch
and basketball court for the youth of
the area, all of which did not come
out of taxpayers' money.
Unfortunately, in north Ely the
youth will not have the same
support because county councillors
erroneously seem to
feel housing, with one football pitch
stuck in the centre, is far more
productive than creating a youth and
family-friendly area.
Ely has very few recreational/park facilities,
and if left to councillors they will be reduced to practically ' nothing.
I wonder where the councillors will be when these young people get bored and hang round the streets causing disruption to residents.
It's time for the youth of north Ely to be given the same consideration as other areas.
In the Knap in Barry, for example, the local council has provided an area for the recreation of young people by the lake.
Remember county councillors, you were young once, and I'm sure you went to the park or local fields to enjoy yourselves and meet friends.
Equally important for present and future generations!
Sian Tarbet
Marguerites Way, Westfield Park,
St Fagans,
Cardiff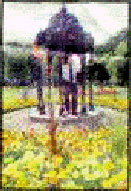 Are you REALLY representing us?
HAVING read the letter from Councillor Delme Bowen (Viewpoints, November 27), I am amused at his remark stating the importance of keeping in touch assumed the letter published in Viewpoints on November 23 was written by my husband and not me.
I have even sat with you on a school governing body!
As for your very bland and serial newsletter, yes I did read it, and yes you do mention the development in very couched terms, but you quite clearly express you are in favour of the proposals, stating they will reduce nuisance incursions. So how are you going to represent those of us who feel it's impractical and absurd when you have already made up your mind?
With regard to the nuisance incursions, I would ask, where are these young people with bikes going to go when they are not in the recreation area and where will such problems take place?
No doubt nearer to, and around residential properties where a higher planned population will be added.
Coun Bowen, just as you no doubt enjoy the greenery around your home, so do many residents in Westfield Park and the north Ely area.
From the information you gave in your letter, it seems you have seen different plans to us.
There was no fencing only trees, which will take a long time to grow.
It seems a most unholy alliance that you, from Plaid Cymru, are working hand-in-glove on the council with the Liberal Democrats.
Get to know your constituents better, councillor.
Sian Tarbet Marguerites Way, Westfield Park, St
Stop these plans to build homes
SO, green land is not under threat by the north Ely development as feared, and Cardiff council intends to improve and extend the recreation facilities, if Coun Delme Bowen is to be believed..
What a complete load of rubbish, they are building on green recreation fields and not extending recreation areas but taking them away.
These green fields are much used by young children for playing and old people, dog walkers and joggers for their daily exercise." The green field behind Llewellyn Avenue is used for the same reasons. By taking away these fields the ' children will end up on the streets, causing anti-social behaviour.
Also, the motorbikes are better off where they are, rather than on the streets.
And if the area was better fenced it would solve a lot of the problems we have with stolen cars.
So they are building on and taking away green recreation fields.
Peter Sullivan
Llewellyn Avenue,
Ely,
Cardiff
Do not build on green site
I WAS very surprised at Councillor Judith Woodham's remarks in the Echo (November 14), concerning what is happening in north Ely. Cardiff.
No discussions whatsoever have taken place between the residents concerned and councillors about the proposal to build houses on the proposed site, although certain councillors have been invited to meetings, but said they felt intimidated and would not attend.
No resident agreed to these proposals as stated by her earlier in the year.
I have brought up my children near the proposed site and they always played on the recreation ground and used to go to Great Plymouth woods every day in the summer holidays, and their children are doing the same.
This is the only piece of green land in this part of Ely and I and hundreds of others will fight to the last to keep it.
G Stratford
: Tregaron Road,
Ely, Cardiff
Help us keep
green spaces
I WOULD like to know how we are supposed to live in a democratic society when the people of Ely, Cardiff, who voted their councillors into office, cannot get any one of them, from any party, to offer then-support to fight the development of two Greenfield sites.
These sites will incorporate the building of 230 houses in one area (planning number 07/2212/W) and 130 houses and fiats (number 07/2211/W) on another.
This will take away valuable playing and recreation fields from
the children of Ely, who do not have the obesity problems lots of areas have because of these spaces. These fields and paths are also
used by dog walkers, joggers and many others.
The council has already purchased a private house on a compulsory purchase order to provide access to the site.
It appears to myself and others who are trying to fight this, that they are -spending taxpayers' money before planning permission is granted.
We fear that the views of the local people who live in the area and the doctors, dentist, shopkeepers and local police, are not going to be taken into account.
The petitions and letters that have been sent to the planning office all agree we do not have the infra-structure to deal with such an increase of population.
Tay Godfrey Glyndwr Road, Ely, Cardiff
Homes battle site visit today
MEMBERS of a protest group opposing plans to build more than 300 homes on open space were due to attend a site visit today.
The Ely Garden Villagers have collected more than 3,000 names on a petition opposing the plans to build on sites at Pethybridge Road and Snowden Road, Ely Cardiff.
But Councillors Brian Finn and Sue Goddard, who represent the Ely Ward will
not be attending the visit of the planning committee, including planning officers, on the request of the group.
Ely Garden Villagers say the councillors did not represent the people of Ely throughout the consultation period and should therefore not represent them at the site visit.
Lynda Sullivan, a spokeswoman for the group, said: "Brian Finn and Sue Goddard have never once
asked what the people of Ely want.
"The council has got 25 letters in favour of the development. We have got more than 3,000 names on our petition and more than 300 letters opposing it."
Councillor Goddard said: "Councillor Finn is the spokesman on this issue but I can confirm we will not be attending the site visit."
Councillor Finn did not wish to comment on the matter.


Democracy is for politicians
I READ with interest the recent letter from Mr Godfrey in Viewpoints about the development of two green field sites in Ely, Cardiff, and the letter from Councillor Woodman defending the council's actions.
Not living in Ely I cannot comment on the situation there but I can say that Rodney Berman's statement that selling a very small area of parkland for development would create a dangerous precedent is insincere.
As pointed out by Tony Martin (Viewpoints, November 15) if Rodney Berman means what he says he should stop the development of Eastern Leisure Centre and park but in my view there is little chance of that.
Added to this the precedent of building on parkland has already been established - by the council itself building offices on part of Heath Park which they dedicated in 1952 to the public for open air recreational purposes.
Since August last year 1 have been trying to get Rodney Berman to explain the legal basis for this action but without success.
In my view the council will always
do whatever it wants to do regardless
of the wishes of the public whose
concerns are listened to but then ignored.
Recently a Lib Dem councillor admitted in public that in most cases the council does not oppose development by private contractors because if it did the developer would appeal to the Assembly and this would incur more costs to the council.
This means that in general, decisions are cut and dried in favour of the developer and the entire process of site evaluation and visits, accepting petitions from worried residents and public planning hearings are all part of an elaborate game the council plays.
Democracy it seems is for politicians not the people.
Ron Page
King George V Drive, Heath, Cardiff
Green spaces are precious
I AM an Ely resident very concerned about the two planning applications • mentioned by Judith Woodman (Viewpoints, November 14).
She stated they were regeneration schemes designed to address problems with the existing area. Well I would like to ask her if there is any proof that these schemes work.
1 do not believe building more houses will improve the area.
Building more houses will increase the population and this will only bring more problems.
I would also like to ask if she think! taking away the children's field will solve the problems. No it will not!
My husband and I use this field
Constantly. I have seen the plans and the only green space that will be left is hilly? how can we play games with our children on these hills?
I have grown up hi Ely and I had lots of fun times in these fields, something I would like my children to have.
Jane Marinos
Llewellyn Avenue, Ely,
Cardiff
Development is not the answer for Ely
WHY is the council starting development of land north of Snowden Road in Ely, Cardiff?
These houses are being built behind Marloes Road, Glyndwr Road and Llewellyn Avenue.
Also they say the views of the local community have received full consideration.
Meetings have been held by local residents, and not one person felt that this was true. The residents feel very disappointed with the lack of information they have been given. These plans affect the community as a whole so why are only a handful of people made aware of it? Councillors have been invited to our meetings to explain but not one councillor responded. After the Ely riots of 1991, the council made promises to the people of Ely - it's now 2007 and we are still waiting.
This is the only green space our community has.
It's used a lot by the community, joggers dog walkers, families and children. Building more houses is not the answer, it did not work for St Mellons, so what makes the council think it will work for Ely?
Denise Corbyn Llewellyn Avenue, Cardiff
What is really happening in north of Ely
I NOTED surprise with some correspondence in viewpoints on November 3 and would like to take the opportunity to correct a number of inaccuracies.
Two outline planning applications have been submitted by the council for sites hi north Ely, Cardiff.
One is for the development of land north of Snowden Road for approximately 270 new dwellings plus new recreational open space and land for community/healthcare provision.
The second is for development of land north of Pethybridge Road for approximately 60 new dwellings, plus recreational open space.
Contrary to the impression given by the correspondent, the proposals are not just about building houses, but are comprehensive regeneration schemes designed to address concerns which have been raised by community representatives over many years.
Far from taking away valuable open space, the developments seek to address problems with the existing areas by putting back new recreational spaces which are properly integrated into the communities.
They also provide an opportunity for the provision of new local facilities, investment in existing facilities and improvements to local amenities such as the Plymouth Great Wood.
The council has not compulsorily purchased a private
House to access theh site.
Informal discussions have taken place and will be progressed when the planning applications have been determined.
The views of local people were sought through a community consultation programme earlier this year, and received full consideration prior to submission of the planning applications.
Coun Judith Woodman Deputy Leader and Executive Member,
Communities, Housing and Social Justice,
Cardiff Council
Cardiff Bay
REGARDING the houses being built on the recreation ground in north Ely and also by Plymouth woods.
I disagree because this is the only green piece of land we have in this part of Ely.
I enjoy chilling out over the rec with my friends because this is really the only place we can meet up.
In the summer quite a few of us regularly take a long walk through the woods to visit St Fagan's, which means a lot to us.
We won't be able to do that if this housing development does take place. Kimberley Stratford Wilson Road, Ely, Cardiff
Where will the children play?
DOES the council truly believe we are all stupid in Ely?
The field behind Llewellyn Avenue has always been a playing field. The grass has been cut by the council since the houses have been built. I played there when 1 was younger, so did my children, now grown up, and the children of today still use this field. How can they justify building houses
on a field?
Where will the children play football, baseball and many other games? If houses are built on this field, it means more families, and more bored children.
This is only going to cause more trouble in the near future.
If they want to crack down on anti-social behaviour they are going the wrong way about it.
For once stop thinking of your pockets, and think of positive ways to help the people of Ely.
Lynda Sullivan Llewellyn Avenue, Ely, Cardiff
IN answer to Councillor Judith Woodman's letter (Viewpoints, Wednesday November 14):
The development of land in areas of Snowdon Road and Pethybridge Road is courting disaster.
If the council thinks that by developing this land into another 270 homes it will eliminate the problems in these areas, it is wrong.
Increasing the population in these areas will only put more pressure on our local police force, which is grossly undermanned.
The answer is yes to the regeneration of Plymouth Great Woods but also the surrounding areas of land. _
Protect the land properly and eliminate the criminal, so that all law-abiding citizens of Ely can enjoy this facility.
Ken Bowring Illtyd Road, Ely, Cardiff